Add VALUE and Ambiance to Your Home – With a New Fireplace?
Adding a Fireplace: Good Return on Investment?
Installing a fireplace is a popular project, but don't expect a significant return on your investment.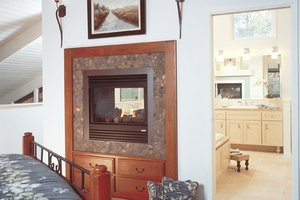 One way to make your fireplace investment pay off is to place it in a smaller room, such as a bedroom.
With costs ranging up to $10,000 for a traditional brick hearth and mantel, installing a fireplace is a serious investment. If you're wondering if you'll get a return on that investment, the answer is: probably not.
While intangible benefits such as comfort and ambience may make a fireplace addition worth the cost for you, consumer attitudes toward fireplaces are changing. Here are the facts:
Fireplaces no longer are preferred features
In 2007, the National Association of REALTORS® survey of homebuyers' preferences listed fireplaces as the most preferred home feature. Almost 46% of homebuyers said they would pay extra (a median of $1,220) for a house with at least one fireplace, the most popular "desired feature" in the survey. However, more recent surveys from the National Association of Homebuilders show that support is slipping, and REALTOR® Magazine recently put fireplaces No. 1 on the list of "Home Fads That are Falling Out of Style". That means chances of receiving price support for your fireplace addition when you sell your home are diminishing.
According to the U.S. Census Bureau, 53% of new homes built in 2008 included at least one fireplace. That's down from a peak of 66% in 1990, although the numbers may also reflect builders' attempts to save costs for development houses.
A fireplace isn't calculated separately in a professional home appraisal, making it difficult to assign increased value from your investment.
Match your fireplace budget to your house
When you estimate how much a fireplace might add to the value of your house, consider your home's overall value. A $10,000 fireplace holds its value in a $1 million house because buyers expect this feature in an upscale home. But a $10,000 fireplace might not be such a crucial component of a $100,000 house, especially if features that potential buyers consider more important are lacking.
Get value from your fireplace investment
Put a new fireplace in a room other than the kitchen—usually the family room or great room.
Locate a fireplace in a smaller, easy-to-heat room such as an office, guest bedroom, or master bedroom.
Equip your fireplace with energy-efficient glass doors and an exterior venting system that prevents heated air from being pulled out of rooms.


Costs of Adding a Fireplace
Installing a wood-burning, gas-burning, gel-fuel, or electric fireplace to your house costs $400 to $10,000, depending on the type of fireplace you select.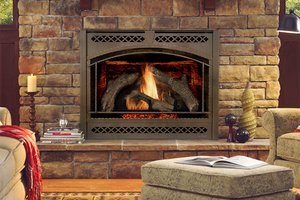 Direct-vent fireplaces, which don't require chimneys, are a cost-saving option with gas-burning fireplaces.
Installing a fireplace with a brick-lined hearth and a custom mantel can easily cost $10,000 or more. It's also possible to get a similar look for thousands of dollars less. Just shop for a ready-made unit and watch what you spend on the fireplace surround.
If your budget is really tight, a free-standing gel-fuel or electric fireplace eliminates installation costs. But be aware that some bare-bones alternatives don't completely succeed in mimicking a real wood fire.

Check local building codes for possible restrictions on the types of fireplaces that can be installed in your area.
Costs of a wood-burning fireplace
An open-hearth, wood-burning fireplace—like the ones you see in mountain resort hotels—requires the help of a skilled, professional mason and a budget approaching (and often exceeding) $10,000.

For an existing home, considerable renovation work is required, including a foundation to carry the weight of the firebox and chimney, and the cost of the chimney itself.

Expect to pay $7,000 to $10,000 or more.
Cost saver tip: Go for a drywall surround and a simple, wall-mounted mantle.
Costs of a gas-burning fireplace
A fireplace unit that burns natural gas or propane runs about $2,000 for the basic materials package. Installation and finishing typically add $2,500.
Cost saver tip: Switch to a simpler surround and mantle, and get a direct-vent fireplace so you don't need a chimney. Or, opt for a vent-free gas fireplace for $400 or so. Hiring a professional to install a gas line or a connection to a propane tank adds about $1,000.
Your least-expensive option
A gel-fuel fireplace or an electric fireplace starts under $400. With a portable unit, that's the total cost since the fireplace is ready to use once you remove the packaging.

Because there's no flue or chimney, it's easy to install TVs or other electronic gear directly above an electric fireplace. If you include a mantel package, expect to pay $800 to $1,600. One perk available: sound effects that mimic the crackle and pop of a real fire.
Ongoing costs
Estimate your energy costs by using a fuel cost comparison calculator. Gel fuel, not included in the calculator, costs $3 per 13-ounce can, enough for three hours.

For a wood-burning fireplace, figure on $100 to $200 a year for chimney cleaning. Gas fireplaces need an annual service check ($100 to $150) plus a chimney inspection. Gel-fuel and electric fireplaces don't need regular maintenance.
Tax credits for fireplaces
In the past, it was possible to qualify for a federal tax credit for 30% of your costs, up to $1,500, if you install a wood-burning fireplace that's at least 75% fuel-efficient. Check out the latest rules to see what currents IRS guidelines are.

SOURCE
Rich Binsacca is the author of 12 books on various home-related topics and is currently a contributing editor for Builder and EcoHome magazines